NoTouchLauncher
This app is a lightweight launcher. It is designed to be useful also for users who prefer hardware keys to a touch panel.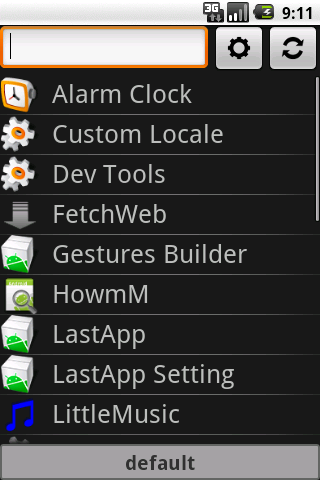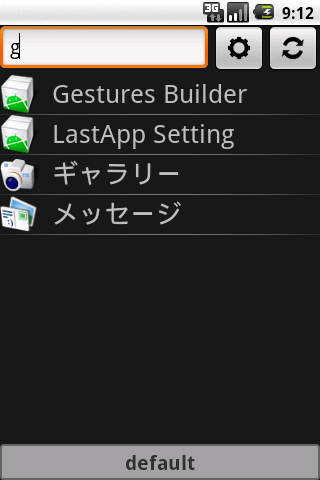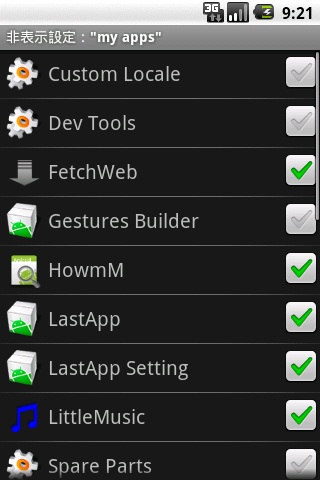 Control
It shows a list of installed apps, and you can choose to launch an app. Five recently launched apps are displayed on the top of the list. This feature can be disabled by setting a preference.
When you input something in the textbox, only items that matches the string will be displayed. If only one item is displayed after filtering, you can launch the app also by pressing enter key in the textbox.
At the first invoking, it takes some time to make the list. It saves the list in your device, and therefore it starts quickly afterward. If somehow the list goes wrong, please press the reload button to refresh the list.
Hiding apps
You can hide several apps in the list. Moreover, you can have multiple configuration of hiding, and switch between them by the bottom button showing a name of current configuration. They work like pseudo categories.
Go to "Configure app hiding" the preferences screen, and you will see a list of configuration sets. By default, only "default" exists. To create new one, press "Add new set." To rename or delete, use a context menu invoked by long press.
Misc.
If you perform a long press on a list item, it don't launch the app but display the application detail page of the app by default. Also, you can set an action bound to a long press as "open Google Play" or "choose at runtime." Please go to the preference screen to set.
On Android 2.2 or up, pinch-to-zoom is available.
Shortcuts
If your phone has the following keys, you can operate by them.
Volume Up, Down

zoom in/out or page up/down (can be set in the preferences screen)

Camera, Menu, Right Alt

switch hiding configuration

Search

show recently used apps (pressing several times recalls older history)

Left, Right cursor keys

(when the list is focused) page up, down
Download
Changelog
2.1
Added: the volume keys can be used for page up and down
2.0.2
Fixed: crash at first use
Fixed (again): the bug about uninstalled apps
Excluded from the list of recently used apps
2.0.1
Fixed: when an app is uninstalled, it doesn't remove correctly the entry in the list of recently launched apps
2.0
Added: app icons
Added: app hiding feature
Added: pinch-to-zoom
Added: Japanese translation in the preferences screen
Minor improvement of user interface
Code cleanup
1.4
It recognize automatically installed / uninstalled apps
1.3.1
Fixed: crash at orientation change
Dpad left and right works as page up and down
1.3
Added: input assistance for Japanese app name
1.2
Recently launched apps are displayed on the top of the list
Repeated pressing of the search button can display more history
Hide a software keyboard at startup
1.1.2
New contributed icon (thanks for the contributor)
Fixed: "Choose" for a long press didn't work when "Close after long press" is set
Fixed: crash at a long press at an app that doesn't exist
1.1.1
Fixed: a possible crash at the first invoking
1.1
Added: "jump to the market" function
Added: the preference screen
Now it can finish after launching
Bug fixes
1.0
Back to the top