LittleMusic
A very simple and lightweight music player app, compatible with mp3, ogg, and wav files.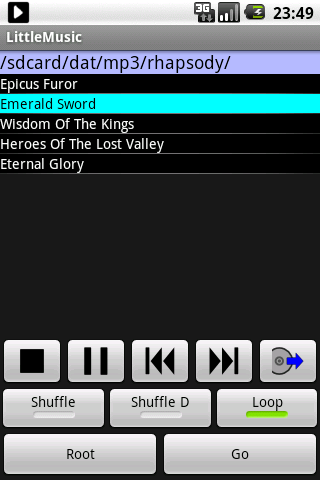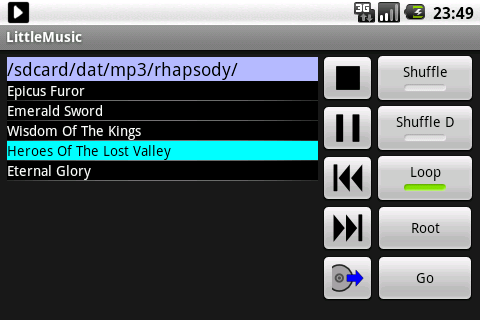 It only plays music and never handles album arts, lyrics, and so on. It looks directories on a SD card that have music files recursively, and treats a directory as an album. It uses ID3 tags only to display a title of a song.
LittleMusic can continue playing a music in background after you close. When you need some operations, please re-open LittleMusic from a launcher. Note that it shows a notification in the status bar, and you can open by tapping it.
Control:
There are common buttons for stop, pause, skip back, and skip forward. A button with a disc and an arrow make it to the next directory, and by a button "Go" you can open an arbitrary directory. The other buttons are for settings.
Shuffle - toggle whether shuffle order of songs
Shuffle D - toggle whether shuffle order of directories
Loop - toggle repeating playback mode in the current directory
Root - set root directory

Default setting is "/sdcard", but this means that LittleMusic searches in entire SD card (even in directories that don't contain any musics) at startup and make its starting slow. I recommend to set this option properly.
Download
Changelog
1.3
UI improvement
Code cleanup and a lots of bugfixes
Remove LMController
1.1 - 1.2
Displays titles of music files
Added: a portrait layout
1.0
Back to the top